We are seeing a lot of hype on dark mode in the past few months. Since last year, Facebook added dark mode on its family of apps – Facebook, Instagram, and WhatsApp. While Pinterest, Reddit, TikTok, and Twitter enabled dark mode in toggles. Recently, Snapchat tests dark mode to select iOS users.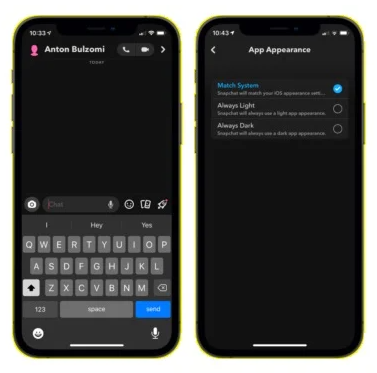 "Dark mode" is a display setting among apps featuring light-colored text over a black screen. It's the reverse of the default app display setting where dark text shows up on a light screen. There are two basic purposes of a dark mode:
To slow down battery use

To reduce eye strain, especially during the night
As shared by Appleosophy, a new "App Appearance" section shows on the Snapchat app setting. Snapchatters will have three choices on their displays:
Match System – where Snapchat will match your display appearance based on the light it receives from the outside environment

Always Light On – where the light mode default display will always appear 

Always Dark On – where the dark mode default display will always appear 
Snapchat tests dark mode to select iOS users as of 18 January 2021. 
Implications for Marketers:
As Snapchat joins the dark mode bandwagon, marketers should take some time to think about how to develop a dark mode style of marketing. Dark mode emailing is getting popular. So, there's a possibility that this unique display option can also be a trend in content creation. It may help to learn creative techniques to use dark mode in marketing. Who knows? People may find it attractive with the many eye-straining colorful ads.
Reference: https://www.socialmediatoday.com/news/snapchat-launches-test-of-dark-mode-with-small-percentage-of-users/593848/