Being the leading platform of industry professionals, LinkedIn facilitates top-of-the-minds dialogue. As such, they have noted useful insights to prepare everyone for the key trends in the workplace. Today, LinkedIn publishes the Evolving World of Work Insights.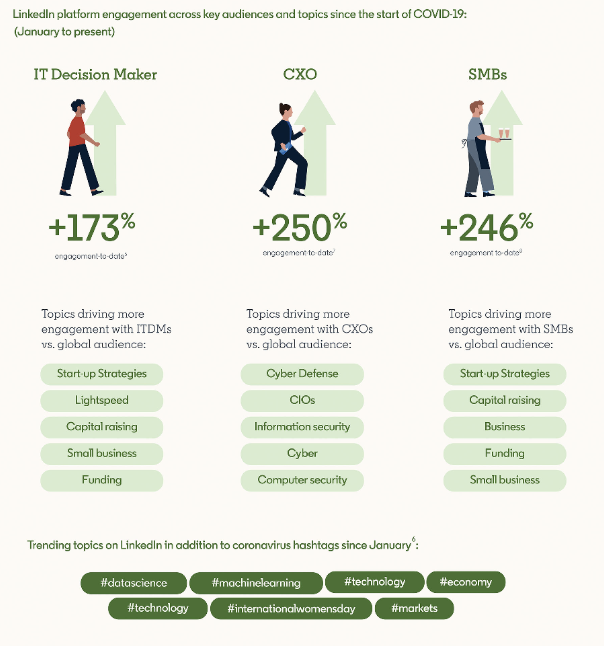 The publication highlights the need for technology companies. In the past few months, the COVID-19 pandemic results in in-home connectivity and remote workplace.  Businesses and brands will then need to collaborate and connect across the globe. Tech companies help to empower these needs.
Key Points
Information Technology Services is the No. 1 Leader of Change. Everybody's going digital – the business, home, people, and the workplace.  Businesses have to adjust to the changing lifestyle and needs of the people. As such, there's a high demand for digital services. Technology brands have a huge opportunity to support companies. LinkedIn searches for remote working increases by 3.1x. Businesses are looking for solutions to keep high productivity.  Tech companies can provide an all-in-one platform to keep the operations organized.
#Leadership and #Marketing rank in the Top 5 of LinkedIn Hashtags. This means a large demand for CXOs to lead a business and market the brand online. A CXO should manage the employee through change with transparency and trust. He also needs to adapt innovations to drive business continuity. This innovation includes collaboration tools and eCommerce platforms linked to social media marketing.
Brands that continuously engage with the audience during the lockdowns reaps 5x positive effects. The best way for a business to survive is to keep on engaging with their audience. Live and video streaming have been a trend to let others know that a brand continues to exist. Social media platforms have been helpful enough to enhance marketing tools. And brands who consistently publish content show desirable results in market penetration and profits.
These insights from LinkedIn give a clear message. Brands and businesses have to act now. They should be resilient enough and transform into going digital. LinkedIn publishes the Evolving World of Work insights on 26 June 2020.
Implications for Marketers:
LinkedIn's Evolving World of Work insight is a call for brands and businesses to transform digitally. Such a transformation will give them a better opportunity to market worldwide. They just need to invest in technology. But it will surely provide positive results.
For marketers, these insights give them more information about the trends to adopt. It helps to discover new topics relevant to professional interests. These can then help power up marketing by producing the right content for your target audience. As such, it's the most powerful online tactic to attract your audience.
Reference: https://business.linkedin.com/marketing-solutions/blog/marketing-for-tech-companies/2020/what-s-next-for-tech–key-trends-shaping-the-future-of-our-moder