Social media platforms are now focusing on helping the blind and visually impaired to connect with the community. Twitter spearheaded the move by rolling out audio tweets and a dedicated alt-text button for image tweets. Facebook introduced the automatic alternative text (AAT) in 2016. It's a technology that generates an image description based on AI recognition. Today, Facebook updates its automated alt-text process.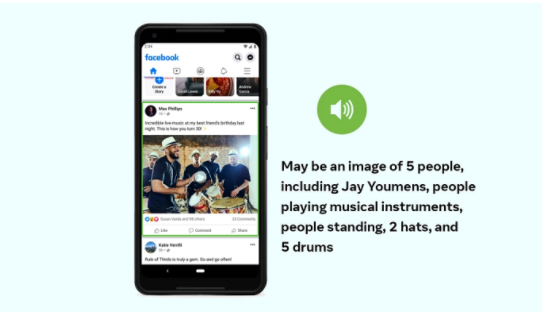 There are around 285 million visually impaired around the world. And 39 million of these people are blind. This is why Facebook is making an effort to help them experience the excitement and fun of imagery. Most people can instantly see all kinds of Facebook content. These include articles, comments, events, and images. The visually impaired rely on screen readers to describe it. A screen reader is a software application that helps them get information through Braille and text-to-speech.
The current updates of Facebook's automated alt-text process include the following:
AAT can now recognize 1200 concepts, which is 10 times more than the 2016 version. As such, it now provides a more accurate and detailed description of an image. The description starts with the word "Maybe" to suggest AAT's small margin of error.

AAT now describes images not only for what they are but where they are placed within the image frame. For example, AAT will describe an image as "Maybe a selfie of 2 people outdoor, the Leaning Tower of Pisa."

Facebook's AAT, by default, provides a succinct description of the image. But now, users of the screen reader can customize the details they are interested in or what they want to hear. They can choose to enable the category, position, and size of the image on the description. Simple words will be used to specifically express these details.
Facebook updates its automated alt-text process on 19 January 2021.
Implications for Marketers:
The updates on Facebook's automated alt-text process shows that the platform is for everyone. For marketers, this can be an opportunity to create a unique segment comprising the visually impaired. Creating simpler graphics on Facebook ads can help increase engagement with such a target audience group. 
Reference: https://www.socialmediatoday.com/news/facebook-updates-its-automated-alt-text-process-to-identify-more-objects-wi/593606/