Brand safety for Facebook is an effort to maintain a safe but collaborative community. The platform continuously invests in people and technology to prevent harmful content. Since 29 November 2019, they have been testing ad safety options with selected partners. As of 12 May 2020, Facebook expands ad safety control for all advertisers and brands.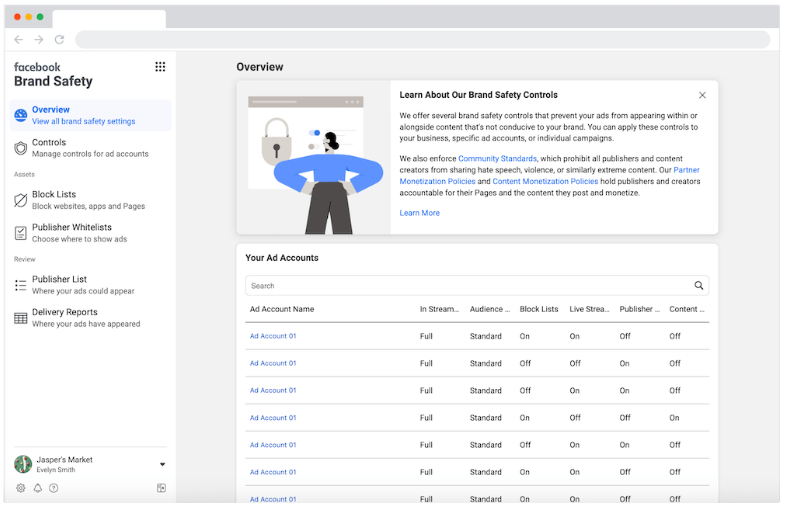 The main elements of the expanded ad safety control are:
Publisher Whitelists for Audience Network – lets advertiser choose which third-party publisher can run their ads;
Content Whitelists – offer video-level whitelisting for advertisers served by third-party providers. These include Integral Ad Science, OpenSlate, and Zefr. Whitelisting allows partners to assess and tailor in-stream video campaigns on Facebook;
Live Stream Exclusions – lets advertisers opt-out on from vetted partners testing their in-stream ads. Before, this tool was offered at the campaign level; but now, it's also provided at the account level;
Delivery Reports – gives impression data for each content and publisher to accurately validate brand safety risks.
Advertisers can access these tools on the Brand Safety Control section of Ad Manager. The page had been redesigned to show all business accounts and brand safety control statuses. A new control page was added to easily set brand safety at an account level. It's where advertisers can also manage the blocklists and publisher listing.
Implications for Marketers:
As Facebook expands its ad safety control, marketers can have a better hand on a brand's presence. The white list helps then show up ads where a brand thinks they can benefit most. While exclusions allow advertisers to choose which streams and streamers can view video content. Such controls are now within individual campaigns and across your ad accounts.
Reference: https://www.facebook.com/business/news/expanding-our-brand-safety-controls-for-advertisers/#