Most businesses use a LinkedIn Company Page. This helps them attract new talents, build their brands, and connect to their employees and followers. It also helps them share events, products, and services. Below are three new features of LinkedIn Pages helpful for marketers.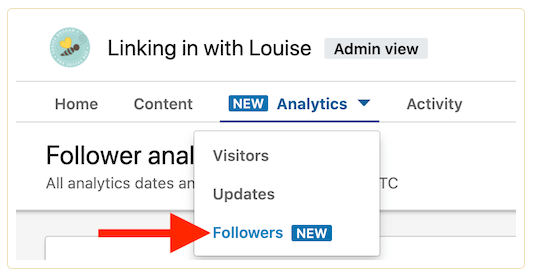 Ability to See Who's Following a LinkedIn Page.
Page admins can now export a summary of who followed the Page up to the past 30 days. The summary includes the company size, industry, job function, location, and seniority of the new follower. The exported spreadsheet will not show the follower's name. But Page admins can view the information on the Followers Analytics. It has a new section named "All Followers." The section shows the name of who followed the page and the date they followed it. 
LinkedIn Events now Show on the LinkedIn Company Page.
On 12 May 2020, LinkedIn launched virtual events solutions. It is an integration of Live Broadcast and Events. It also makes Events easier to find. They're visible in the left-hand menu of Linked Pages. Each new event will trigger the Events tab showing all the Page's events in chronological order. LinkedIn members can sign up using a pre-filled registration form. Such functionality is only available for public events. LinkedIn members can also share the event's post on their LinkedIn personal page. After the event, the organizer can download the registration information.
Grow Your Network and Trending Coworker Content Section.
The My Company Tab is a feature available to pages with more than 200 employees who are registered on LinkedIn. It's a trusted space for employees to collaborate while working remotely. On the business side, it's an easy way to keep their colleagues informed with the latest updates. Employees need to self-identify as working for the business page under the personal profile's experience section. There are two new additions to the My Company tab. First, the "Grow Your Network" tab displays a list of connections suggested within the company. They are based on locations, mutual coworker connections, and previous teams the employees work with. Second, the "Trending Coworker Content" shows a post from employees who get the highest number of engagements and shares.
Implications for Marketers

:
These 3 new features on LinkedIn Pages allow marketers to use Linked Pages efficiently. They can take advantage of the exported data by including them on their email list. The "All Followers" list is a great way to reach new audiences. Linked virtual solutions is another way to increase engagement. While the "My Company Tab" makes it easy for businesses to keep their colleagues informed of the latest happening in the company.
Reference: https://www.socialmediaexaminer.com/3-new-linkedin-company-page-features-for-marketers/