In the past years, Facebook is working on payment solutions to step into eCommerce. Way back 12 November 2019, the platform launched Facebook Pay. It's a safe digital payment option. Last 26 May 2020, it introduced the Novi digital wallet. Today, the platform announces the formation of the new Facebook Pay team.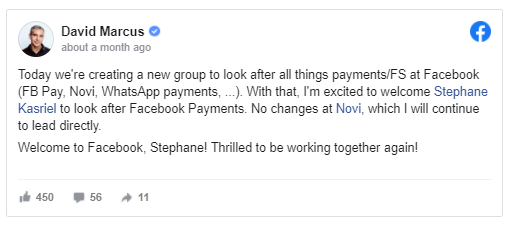 The head of Novi, David Marcus, posts a welcome note to Stephane Kasriel as head of the new Facebook Pay team. He was a former PayPal executive. Now, he's Facebook's VP for Payment. The new Facebook Pay team will develop and oversee the financial solutions of the platform. Novi will remain a separate entity. Although it will be under the new Facebook Pay Team. This move aims to broaden the payment system on the platform. It also targets to link their different payment systems in its family of apps.
Facebook announces the new Facebook Pay Team as of 10 August 2020.
Implications for Marketers:
The new Facebook Pay team is a big eCommerce move for the platform. Marketers will soon witness more low-cost payment options on the platform. This means they can reach out to more customers online.  Now is a good time to advertise on the Facebook family of apps.  Create eye-catching shoppable posts to encourage conversion. With Facebook's digital payment, you can open new markets and speed up online payments.
Reference: https://www.socialmediatoday.com/news/facebook-announces-new-group-to-develop-its-in-app-payment-options/583254/