The COVID-19 stay-at-home order has blown-up the demand for live videos. Users turn to it for online workouts, faith services, cooking lessons, and more. To make Facebook Live more useful for businesses and brands, Facebook relaunches Live With.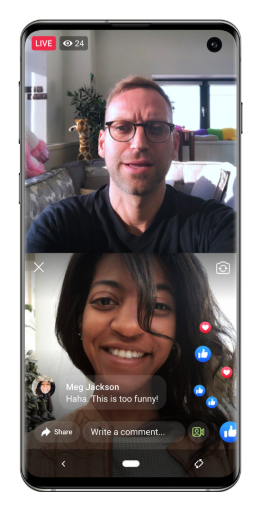 Live With is a co-broadcasting feature for Facebook Live. It allows a profile owner, or a page, to select a guest to join in the real-time mobile broadcast.  Unfortunately, the guest cannot be another Page. 
Such update has already been rolling since 24 April 2020.
Implications for Brand Marketers
Marketers can host an interview with an influencer, industry expert, or an actual user, especially those who are located overseas, to build up credibility. We don't know when the COVID pandemic will stop affecting communities. But our behavior of making and consuming online video content has been changed. Live With is surely a tool for new behaviors.
Reference: https://www.facebook.com/facebookmedia/blog/bringing-back-live-with-on-facebook