Brands and creators can receive views through these four sources: Followers, Shares, Recommendations, and Paid. Facebook introduced on 08 Jan 2020, a new video insight called Traffic Source. From there, users can see the frequency of watch time through the four sources.
However, Traffic Source Insights is not yet available for all users. It will roll out to all brands or creators using Creator Studio in the coming months.
They also have access to the Traffic Source Insights table found on the Retention Insights. To know more, click on Followers and analyze which video got more views. It's a way for them to know traffic sources from followers and non-followers too.
Brands and creators need to remember the integrity signals to avoid limited distribution:
No duplicate publishing of video in another page or of another video posted somewhere
No clickbait videos
No slideshow related videos
No manufactured sharing
No baiting of any kind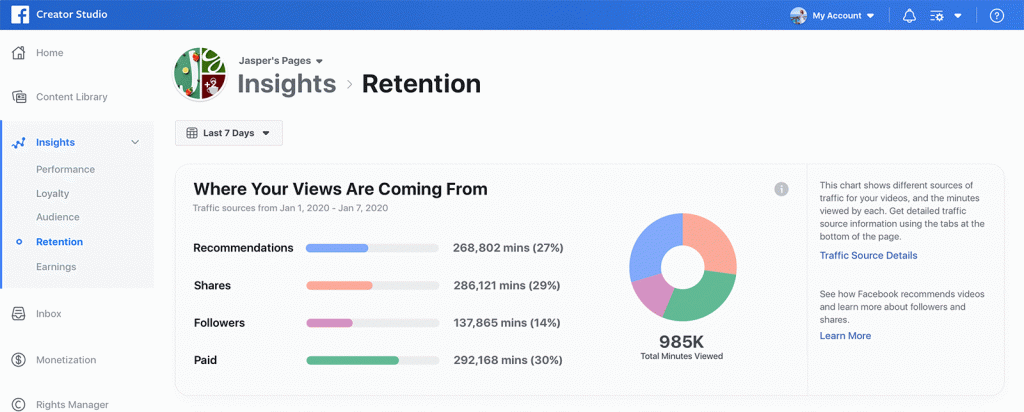 Followers
Brands and creators can receive video views from their followers whenever the upload a new video. Followers can view it through their news feed or on the page. For businesses and creators, followers are one of their most important signals in helping them increase views.
Optimization for this source is to leverage Facebook's distribution incentives.
In doing so, brands and creators should create videos every week to get returning followers or viewers to their Facebook page. For them to get more distribution, the video should be at least 3 minutes long and enables users to finish the whole video.
Brands and creators can also use shares as a metric in receiving video traffic. According to Facebook, this can be considered as "word of mouth" marketing.
Optimization for this source is to get discovered by new followers.
To drive this source, the video should be share-friendly, which enables meaningful, respectful, and organic discussions that can entice users to like or comment on the video.
Recommendations
In some cases, videos by businesses or creators appear through different discovery surfaces. Examples are News Feed, Facebook Watch, and Up Next. Brands and creators can enjoy more watch time if their produce video is highly engaging.
Optimization for this source is to create engaging high-quality videos to get recommended on the discovery sources.
To get an idea, Facebook shares the following:
On the News Feed, recent videos that are 1 to 3 minutes long posted by brands or creators will get more distribution to introduce non-followers to the brand
On Facebook Watch and Up Next, Facebook recommends creating retentive videos that are at least 3 minutes (to get eligibility for Stream Video Ads)
Paid
For those with some to spare, brands and creators can receive video views through boosted or paid ways.
Implications for Brand Marketers
In the meantime, while the rollout isn't 100% complete, brand marketers should observe impacts first. Also, brand marketers can revisit their old videos to see which received more engagement and apply the tips that Facebook gave to ensure more viewership and traffic.
Reference: https://www.facebook.com/facebookmedia/blog/understanding-video-traffic-source-insights