Facebook holds the second of its video series on product development. It's again hosted by Jeff Birkeland, Facebook's Head of Creator & Publisher Experience. Colyn Montgomery, a Product Marketing Manager of Facebook, shares Facebook Media tips about Live Streaming.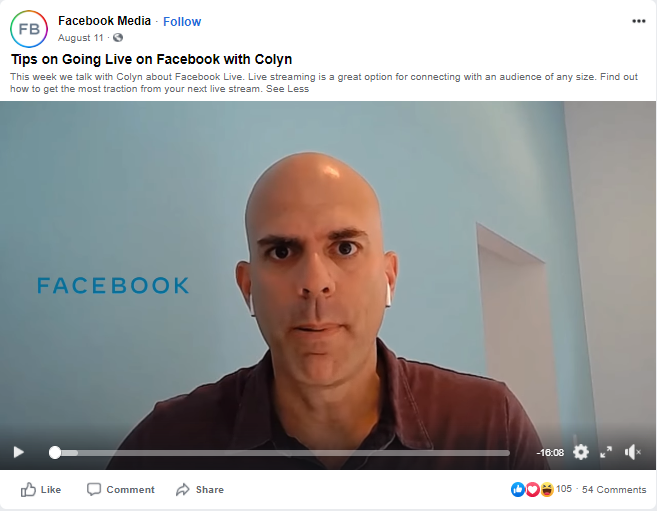 Last 05 August 2020, Facebook launched a video series about its product development. They will be publishing a weekly video on how their team builds up creative tools. The title of the 1st video is Creator Studio App + Publishing on the Go with Jen. The 2nd and new video in the series is entitled Tips on Going Live on Facebook with Colyn. Colyn shares the following details about Live Streaming:
How Creators are using Live

. Facebook has seen a significant change in online behaviors. There's tremendous growth in Live users. These include comedians, churches, creators, musicians, publishers, and small businesses. They use live broadcasts as a unique opportunity to connect to the world. 

Pre-Live Considerations

. Colyn notes that the key to a successful Live Streaming is preparation. In setting up, it's essential to think about your messages, goals, and potential guests. Check your background, internet connection, and sound quality. Make sure that they are working fine to avoid glitches. 

Growing Viewership

. To build awareness,

Live Producer

is an excellent tool to announce and schedule your Live Streaming. It creates a preview post that can catch the viewers' interest. It's also RSVP-capable. The audience can set a reminder about the event. Colyn also notes the importance of cross-posting on another page. It can be on a guest or related Page that you control. Posting on different pages aggregates viewership and statistics.

Important Insights to Track

. The most valuable insights to track in a Live Streaming are audience retention, engagement signals, and Page followers' growth. It will also be wise to note the length of your broadcast and the time it takes to assemble your audience. These data can be useful when setting up your next Live Streaming.

Engagement Tools

. A healthy conversation within the platform contributes positively to the algorithm. Maximize engagement by moderating comments. Posting the first comment on the stream can kick off a discussion. Use polls to encourage participation. Be responsive to queries to make the audience feel heard.
Facebook Media posts the video tips about Live Streaming on 12 August 2020. 
Implication for Marketers

:
Facebooks Media's tips on Live Streaming are worth considering. Live broadcasts experience 3x more engagement than typical videos. Its total viewership rises by 50 % since January 2020. With Live Streaming, you can create a better relationship with an audience and provide immediate information. This is also an opportunity to make your mark and reach more people. For marketers, the Facebook Live Streaming tips above give the right information you need to be on the right track.
References: https://www.facebook.com/fbmedia/videos/954850684962374/