Instagram is taking steps toward platform safety. The photo and video sharing platform announced on 18 July 2019 that it will be more vigilant in removing accounts that violate policies. Instagram, together with Facebook, have recently introduces new changes to ensure a supportive place for everyone and that the content shared by its users are aligned with the platform's content policies.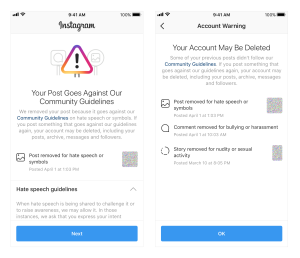 Content violation
Currently, Instagram has a policy of revoking an account with a "certain percentage" of content violations. In addition to that, the platform will remove accounts with several violations in a specific time range. Instagram adopted the policies from the parent company, Facebook, which aims to hold users accountable for their content.
Notification appeals
Instagram also rolled out its notification feature to alert users if their account would be disabled. Additionally, it gives an opportunity to appeal deleted content. Instagram enumerated the types of content violations, in which a user can make their appeal:
–       Bullying and harassment
–       Hate speech
–       Drugs
–       Counter-terrorism
–       Nudity and pornography
More content appeals are expected to roll out in the coming months.
Instagram aims to roll out more topics for content appeals.
If the user's appeal is successful, Instagram will restore the deleted content and revoke any violation. As part of that feature, Instagram expects to roll out a feature to appeal directly from the app as opposed to going to the platform's Help Center.
Instagram's update aims to foster a safe platform for all its users.
Implications for Brand Marketers
Brand marketers need to get a comprehensive understanding of the types of content it may publish over time. It's important brand marketers become careful and tactful over their content to avoid having its account disabled in the process, which can hurt their reputation. Brand marketers may need to review previous posts and content to check if it violates the new policies and avoid backlash and account deletion. Brands dealing with topics of a delicate nature such as lingerie and undergarments would need to be tactful in taking photos and videos to ensure it's not a content violation.
Original Source:
https://instagram-press.com/blog/2019/07/18/changes-to-our-account-disable-policy/